Some kids are naturally picky eaters. Parents spend a lot of time creating carefully planned meals only to have them rejected by their biggest critic, their toddler.
Feeding your child healthy food options does not mean you have to compromise the flavor and enjoyment experienced from well-designed meals. There are an unlimited amount of creative ways you can incorporate more nutrition into each and every one of your child's meals.
The more foods you expose children to while in the womb, through breastmilk, and when they begin eating solids the easier it will be to continuously introduce a wide variety of healthy foods.
Some toddlers become picky eaters because they have been introduced to the standard Western fare. This creates a big problem, but with it comes a simple solution: Stop offering artificially rich foods to your little one!
Foods such as commercial breakfast cereals, pizza, cheese curds, ice cream, hot dogs, chicken nuggets, etc. can blunt your child's ability too taste and appreciate whole natural foods. But don't worry! There is always time to teach healthy eating habits.
In addition to the recipes laid out below, you may also watch my YouTube video here for healthy breakfast ideas that my toddler continues to enjoy:
The recipes laid out in this article have been designed to mimic traditional comfort foods but without the toxic additives. Processed items such as salt, sugar, oil, and animal products have been excluded from the meals below.
These recipes have also been created for gluten-sensitive kiddos, so you will not find that protein in any of the meals described in this article.
Use these foods as a transitional means to eating a healthier, balanced, whole-foods diet.
1. Cauliflower Buffalo Wings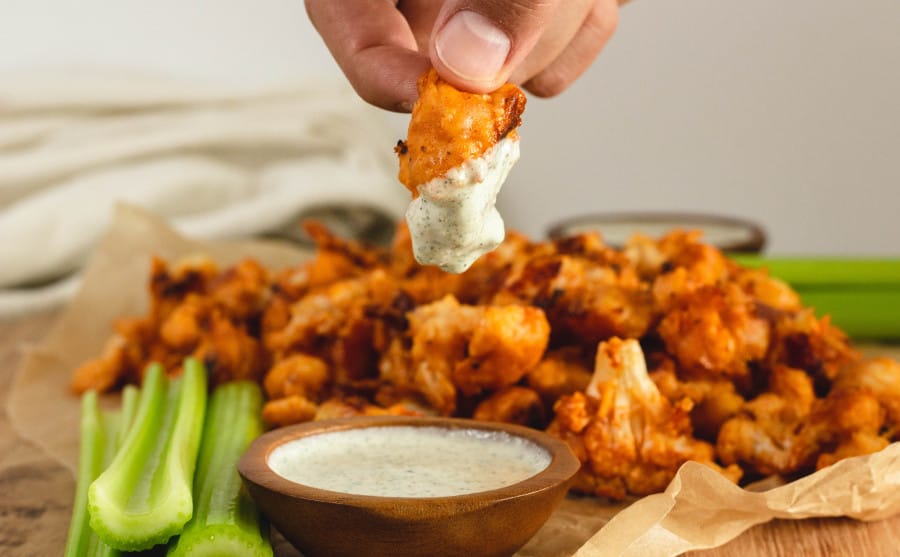 Ingredients
For the batter:
1 cup plant milk, I used soy milk (250 ml)

3/4 cup flour, I used brown rice flour (120 g)

1 tsp onion powder

1 tsp garlic powder

1/2 tsp salt

1/4 tsp paprika

1/8 tsp ground black pepper
For the Buffalo sauce:
1/2 cup water (125 ml)

1/4 cup apple cider vinegar (4 tbsp)

1/4 cup tomato paste (4 tbsp)

2 tbsp tamari or low-sodium soy sauce

2 tbsp tahini

2 tsp paprika

2 tsp garlic powder

1/2 tsp cayenne powder
Instructions
First, preheat your oven to 425° F. Line a baking sheet with parchment paper or use a silicone baking sheet.
Cut one large head of cauliflower into bite-size florets.
Place the gluten-free flour, and spices in a mixing bowl and whisk together. Then, add the unsweetened almond milk and water and whisk again until it creates a smooth batter. Make sure there are no lumps.
This part may be a little tedious, but well worth the effort. Place a handful of florets at a time into the batter and coat evenly.
Now, remove each floret one-by-one making sure to shake off excess batter Lay each piece on the baking sheet. Bake for 20 minutes, flipping cauliflower pieces over halfway through.
Meanwhile, blend the buffalo sauce ingredients together well in a blender.
Remove the baking sheet from the oven. Gently toss the florets in a mixing bowl with the hot sauce. (Exclude or reduce the cayenne pepper if your little ones don't enjoy hot sauce).
Shake off excess sauce and return to oven for 20 more minutes, or until golden brown. Flip florets halfway through.
Serve with your favorite vegan ranch dip. Here is a link to the one I use.
Store in air-tight container for up to 5 days.
Original recipe courtesy of Simple Vegan.
2. Butternut Squash Mac N' Cheese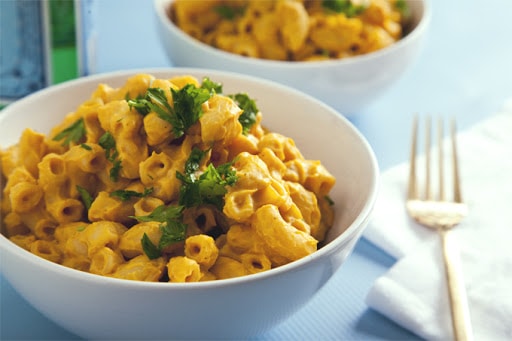 Ingredients
1/2 cup raw unsalted cashews, soaked in hot water for 30 minutes then drain 

1 1/2 cups water 

1 cup roasted butternut squash, cut into cubes

3 tbsp nutritional yeast

2 garlic cloves

1 tbsp lemon juice

1/2 tsp onion powder

1/8 tsp nutmeg

pinch cayenne pepper

1 tsp dijon mustard  

pepper to taste

2 cups dried gluten-free macaroni or noodle of choice (I use Tinkyada organic brown rice noodles) 

1/4 cup pasta water (*once the pasta is done cooking, save 1/4 of the water.) 
Instructions
Place the cashews and water in a high-speed blender and blend until smooth and creamy (will take about 1 minute.) 
Add the butternut squash, nutritional yeast, garlic clove, lemon juice, onion powder, nutmeg, cayenne, dijon, and pepper to the blender and blend until creamy. Taste and adjust seasoning if needed. 
Cook the macaroni according to package directions. Ninja tip: remove from heat when still slightly under cooked (they will continue cooking when added to sauce. Reserve 1/4 cup pasta water, then drain and set aside.
Pour the butternut squash "cheese" sauce into a pot and bring to a light boil on medium-high heat for 1-2 minutes until the sauce thickens slightly.
Add the macaroni and pasta water to the pot and mix everything together. 
Serve immediately. Store in air-tight container for up to 4 days.
Original recipe courtesy of Choosing Chia.
3. Carrot Dogs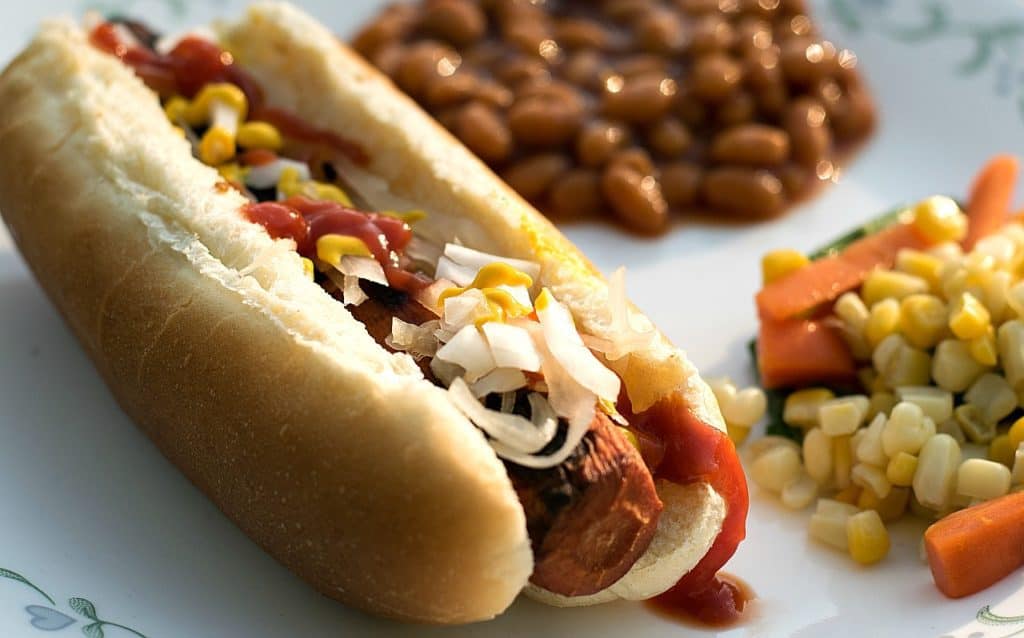 Ingredients
4 large organic carrots

1/2 cup tamari or low-sodium soy sauce (125 ml)

1/2 cup apple cider vinegar (125 ml)

1/2 cup water (125 ml)

2 tbsp maple syrup

2 tsp paprika

2 tsp garlic powder

1/2 tsp ground black pepper

4 gluten-free buns 

any additional condiments or toppings of your choosing
Instructions
Peel and boil the carrots over medium-high heat until fork-tender. This typically takes about 30 minutes. Drain and set aside.
Mix all the marinade ingredients in a bowl (tamari, vinegar, water, syrup, paprika, garlic powder, and pepper) and stir until well combined. Add the carrots (they have to be fully covered by the marinade) and keep covered in the fridge for 24 hours.
The next day, drain the carrots and cook them. We cooked our carrots on a griddle, but you can also grill them or cook them in a skillet (over medium-high heat) for 5 to 10 minutes each side or until golden brown. Don't discard the marinade, use it to drizzle on top of finished carrot dogs.
Place carrots in buns and serve with your favorite toppings.
Best when fresh, keep leftover cooked carrots in a sealed container in the fridge for 2 to 3 days.
Original recipe inspired by Simple Vegan.
4. Spaghetti-O's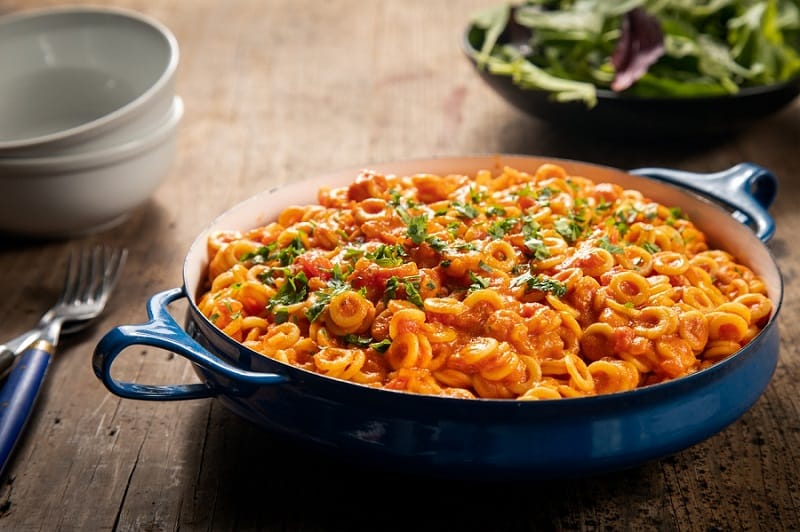 Ingredients
1 (12oz) Box Gluten-Free Anellini Pasta

1 (15oz) Can No-Salt Added Tomato Sauce

1/3 Cup Unsweetened Non-Dairy Milk

1/4 Cup Nutritional Yeast

2 TB Tomato Paste

1 Tsp Onion Powder

1/2 Tsp Garlic Powder

1/2 Tsp Paprika
Instructions
In a large pot, cook pasta according to the directions on product package, drain, and add back into pot.
Now add all other ingredients to the pot, with heat turned to low and mix well to combine.
Serve warm or cold!
Original recipe courtesy of Strength and Sunshine.
5. Black Bean Burgers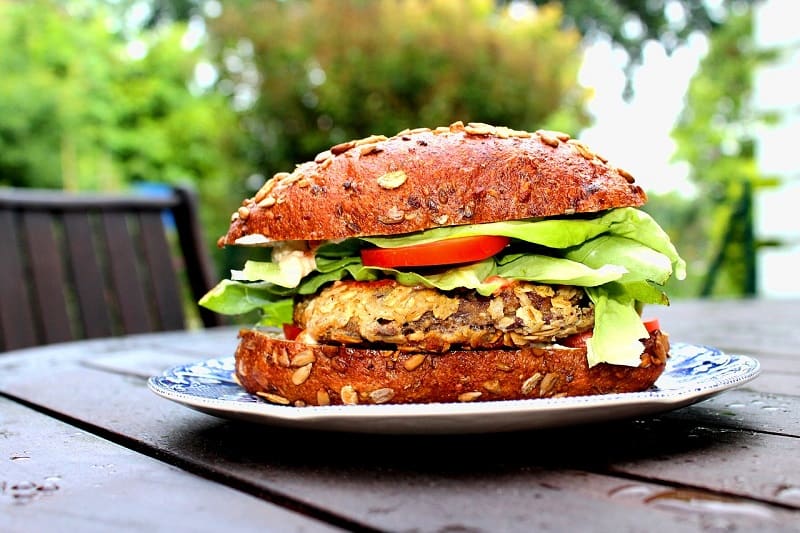 Ingredients
1 cup cooked brown rice

1 15-ounce can black beans (salt-free)

½ onion, diced

¼ cup corn

1 teaspoon cumin

1 teaspoon garlic powder

¼ teaspoon chili powder

¼ cup cornmeal

2 tablespoons salsa
Instructions
To cook the brown rice, bring ½ cup of rice and 1 cup of water to a boil in a pot. Once boiling, reduce heat to simmer. Once water is absorbed, taste rice to see if fully cooked. If not, add a little more water and let simmer until it's ready.
Boil beans until soft or drain canned beans. Pour beans in a medium-size bowl and mash them with your hands, potato masher, or fork.
Preheat oven to 350º F. Lay a piece of parchment paper on sheet pan or use a silicone baking sheet.
Sauté onions in a medium-sized pan. No oil is needed. Just remember to keep a lid on the pan. If the onions do start to stick, add a little bit of water. When onions become translucent add corn and spices. Cook for a few more minutes.
Add cornmeal, salsa, veggies, and rice to bean bowl. Mix everything together so there is an even consistency. Feel free to do this with your hands. Then form mixture into patties. A good thickness is about ½ inch and I like to make mine around 3 inches in diameter.
Place patties onto parchment paper and bake for 15 minutes at 350ºF. Flip the patties and bake for another 15 minutes.
Serve between two leaves of romaine lettuce with tomato, onion, ketchup, and mustard.
Original recipe courtesy of Forks Over Knives.
6. Baked Sweet Potato Nuggets
Ingredients
1 large sweet potato (about 20 ounces)

1/2 teaspoon ground cinnamon

2 teaspoons maple syrup

1 flax egg (3 tbsp water, 1 tbsp ground flaxseed)

3/4 cup GF bread crumbs (more if needed, I use Free From Gluten Bread Crumbs)
Instructions
In a small bowl, combine water and flax meal, and let it sit for 10 minutes.
Preheat the oven to 400ºF.
Pierce the sweet potato in several places with a fork. Place it on a rimmed baking sheet and bake until it's softened, 45-60 minutes. Cool potato completely.
Discard the skin and transfer the insides of the potato to a small bowl. Mash and refrigerate for at least 2 hours.
After the refrigeration period, preheat the oven again to 400ºF.
Remove sweet potato from refrigerator. Stir in the cinnamon and maple syrup. Fold in the flax egg.
Pour the GF bread crumbs onto a small plate. Form nugget shapes with the sweet potato mixture, coat the nuggets with bread crumbs, and place them on a parchment paper-lined baking sheet, (or a silicone sheet).
Bake the nuggets for 15-20 minutes, flipping halfway through cooking time, until they're golden brown and warmed through.
Original recipe inspired by OhMyVeggies.com.
7. "Hamburger" Helper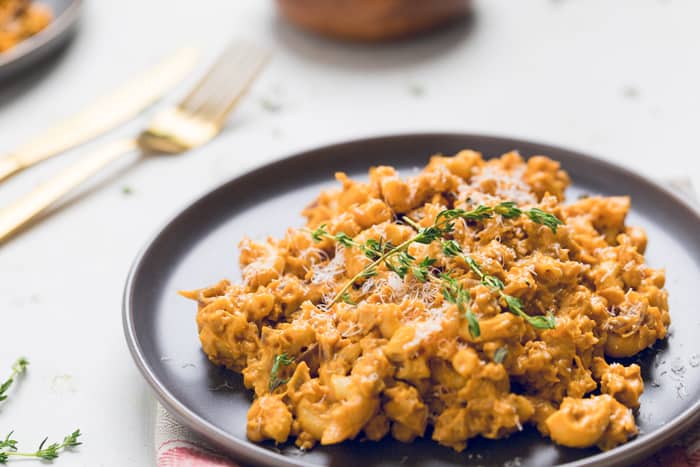 Ingredients
1/2 sweet onion diced

8 oz. baby portobello mushrooms, diced

1 – 14 oz. can brown lentils, drained and rinsed (or 1 1/3 to 1 1/2 cups cooked)

6 cups cooked GF pasta

3/4 cup raw unsalted cashews

1 cup unsweetened plain plant milk

½ cup diced roasted tomatoes

1 tablespoon tomato paste

1 teaspoon distilled white vinegar

2 tsp garlic powder

2 tsp onion powder

1 tablespoon smoked paprika

1 teaspoon dried oregano

¼ teaspoon chili powder

pinch of cayenne pepper

1 tsp turmeric

1/4 cup nutritional yeast
Instructions
Place the cashews in a small bowl, cover with boiling water, set aside for 20 minutes, then drain off the water until ready to use.
Place the Spice/Herb Ingredients into a small bowl, mix, set aside.
In a large ceramic/enamel lined pot or similarly large stockpot, or skillet, add the finely diced onion, sauté over medium-high heat for 5 to 7 minutes until the onions are tender. (If needed to prevent sticking, add a splash of water).
Add the Spice/Herb mix, stirring constantly for 30 seconds, just to release their fragrance. Then add the plant milk, nutritional yeast, diced tomatoes, tomato paste, distilled vinegar, mushrooms, and soaked cashews, simmer for 5 minutes, then remove from the stove to cool slightly.
Place the sauce it into a high-speed blender and blend on high for one minute (or longer) to make the mixture creamy and smooth, then return to the cooking pot and simmer for 5 minutes.
Stir in the cooked pasta and lentils. Simmer for 4 minutes to allow the flavors to marry. Remove from the heat and allow to set for 10 minutes. This will allow the sauce to thicken up.
Original recipe inspired by Monkeyandmekitchenadventures.com.